Enhance Your Security Stack with Microsoft Security Portfolio
Ignite, the Microsoft-hosted annual conference for IT professionals and developers contained many updates and information about the most popular MS applications. Some of these were new features added to Windows 365 and updates to Teams. 
The biggest news, however, centered around Microsoft Defender's security updates, which introduced Defender for DevOps and a public preview of Entra Identity Governance. In addition to these two highlights, the tech company announced enhanced endpoint management, XDR, and SIEM consolidation, as well as some cost reductions. We'll discuss a few of these to provide better insight into how the Microsoft Security Portfolio can enhance your security stack.
Microsoft Security Portfolio
Ransomware attacks have been on the rise and are a top threat — attacks increased over 140% in Q3 of 2021 alone. This trend continues going into 2023, with Rackspace falling victim to a Ransomware attack, which resulted in a widespread outage and data loss. As users file lawsuits, Rackspace faces a significant loss of revenue for its $30 million-dollar Hosted Exchange business.
The growth of sophisticated malicious forces like ransomware as a service (RaaS) means that mission-critical software for businesses and individual users must be top-notch. There cannot be any room for error. 
Microsoft Security Portfolio's anti-malware solutions, according to Microsoft, offer "a unified pre- and post-breach enterprise defense suite that natively coordinates detection, prevention, investigation, and response across endpoints, identities, email, and applications to provide integrated protection against sophisticated attacks."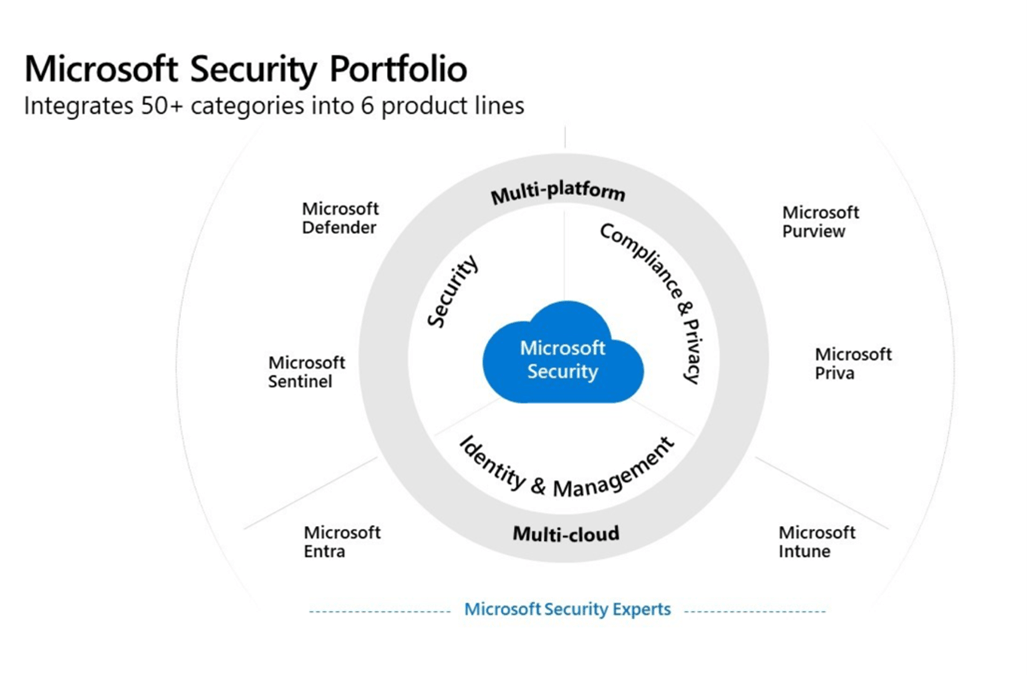 Microsoft Defender for DevOps
Microsoft Defender for DevOps is now in public preview and can be accessed on the Microsoft website. This unified security management system for development environments will help prevent any security issues from reaching production environments. This is done by strengthening cloud resource configurations in code and integrating both comprehensive code-to-cloud context and security intelligence for quicker remediation. Microsoft notes that it will enable "a single pane of glass to surface DevOps security posture insights across multiple DevOps platforms."
Microsoft Entra Identity Governance
Entra Identity Governance has extended earlier converged identity governance and access management investments by delivering a comprehensive identity product for both cloud-based and on-premises user directors. Additionally, Lifestyle Workflows is a new capability that helps safeguard against compliance issues by applying a duty separation in entitles management and automating repetitive tasks. This feature will benefit your business' security stack by better supporting regulatory requirements, consolidating multiple identity point solutions, and simplifying overall operations.
SIEM and XDR
A preview of an automatic attack disruption feature in MS365 Defender is now available for E5 licensees. This feature will isolate affected assets when it detects an in-progress attack. SIEM (security information and event management) and XDR (extended detection and response) are now combined for increased efficiency and effectiveness.
Endpoint Management
Intune, Microsoft's new endpoint security management product offerings create a unified console and security stack. This security stack includes Defender, Priva, Azure Active Directory, and more. Intune will allow:
Remote help
Automated app patching
Intelligent automation and data insights
Endpoint privilege management
Cost Reductions
To help with emerging security threats, Microsoft will be offering a 50% discount to existing customers for Endpoint P1 and P2 licenses. This discount will be available after November 1, 2022, and will expire on June 30, 2023.
---
Trusted Tech Team is an accredited Microsoft CSP Direct Bill Partner, carrying multiple Solutions Partner designations and the now-legacy Microsoft Gold Partner competency. Based in Irvine, California, we report trends affecting IT pros everywhere.
If your organization uses Microsoft 365 or Azure, you may be eligible to receive a complimentary savings report from a Trusted Tech Team Licensing Engineer. Click here to schedule a consultation with our team now to learn how much you can save today.
Subscribe to the Trusted Tech Team Blog
Get the latest posts delivered right to your inbox