Windows Server 2022 vs Server 2019: Features & Security
Outdated software, hardware, and support are not only poor business practices, but they can also be devastating, dangerous and disasters just waiting to happen. Microsoft Server is constantly updating and evolving its Server software and support within the LTSC, fixing patches, adding new features, and updating details to fit the needs of its customers. This is great; however, all these changes can get downright confusing. In this blog, Trusted Tech Team takes a look at the feature and security differences between Server 2022 and Server 2019.
The Way to be Safe? It's to Never to be Secure
"The way to be safe is never to be secure." Thanks for the advice, Ben Franklin! In software security, this 18th-century advice couldn't be more relevant. Microsoft Server is continually improving its Server security and keeping it up to date with the changing technology needs around the world (which are non-stop, as we all know). Server 2019 first introduced the Windows Defender Advanced threat Protection (ATP) feature, which featured deep platform sensors and response actions. Within Windows Defender ATP, Server 2019 also introduced ATP Exploit Guard (which included exploit protection), Attack Surface Reduction, and controlled folder access.
One of three major updates for Windows Server 2022 was regarding security. Server 2022 built upon its security foundation with additional security measures, such as hardware root-of-trust, firmware protection, and virtualization-based security (VBS). Essentially, the new server capabilities combined and improved Microsoft Server security, providing rock-solid multi-layer security that provided what companies need today. In addition to improving the security of MS Server, it simplified it. It also improved on secure connectivity, such as Transport Layer Security 1.3, Secure DNS, Server Message Block (SMB), and SMB over QUIC.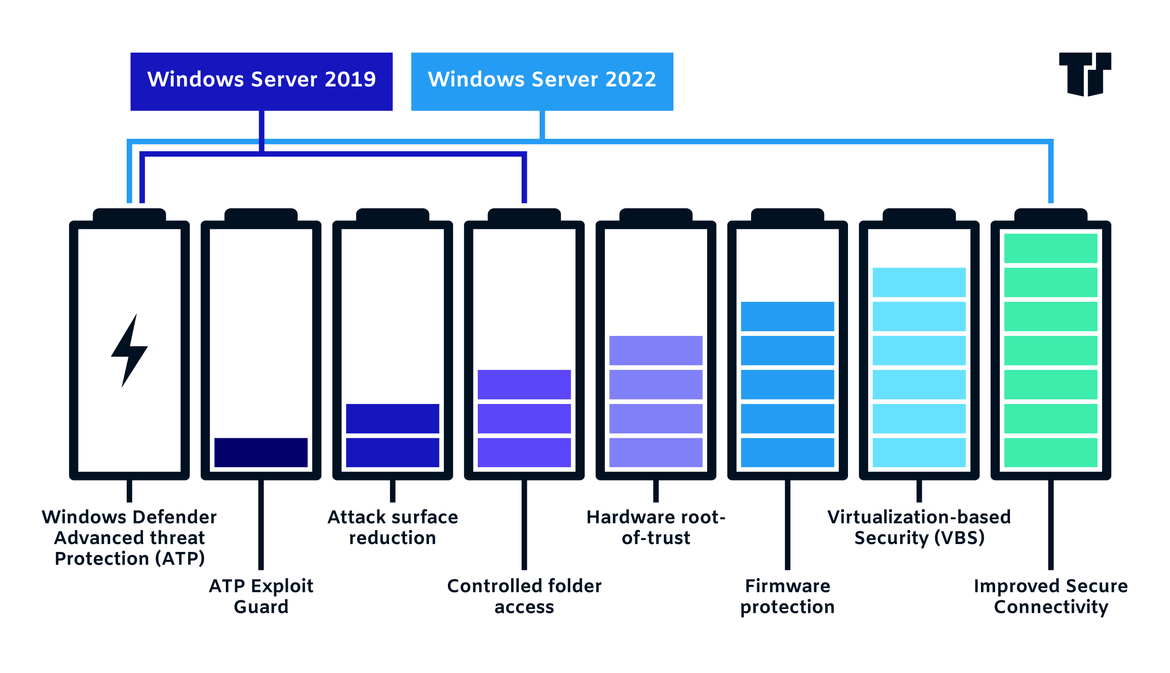 Let's Build a Happy Little Cloud
The internet has been around for some time. Cloud storage and management for the masses? Not so much. Microsoft Server has been updating and improving its use of the cloud in its Server updates and products, making it leaner and more functional. In Server 2019, one of the big improvements was the inclusion of the hybrid cloud, which included Server core application compatibility feature on demand (FOD). According to Microsoft, Server 2019 included a subset of components and binaries within the Desktop Experience.
Today, you can't talk about the cloud without mentioning Microsoft Azure. Cloud-based management is continually improving. Server 2022 introduces additional hybrid capabilities that allow businesses to make the most out of the cloud and its ability to streamline their management, updates, and more. Storage Migration Service and Azure Arc are two hybrid technologies: Azure Arc allows multi-cloud environment management from a single control within Azure. Storage Migration Service makes it easier to migrate servers into virtual machines — another hot topic within Server facilitation.
Discontinued or No Longer Improving
According to Microsoft, several features are no longer being improved within Server 2022. Instead, they have been replaced and aligned with other Microsoft products. These include Guarded Fabric and Shielded Virtual Machines (VMs) as well as Launching SConfig from a command prompt (CMD) window by running <sconfig.cmd>. Other features, such as Internet Storage Name Service (iSNS), have been removed.
---
Trusted Tech Team is an accredited Microsoft CSP Direct Bill Partner, carrying multiple Solutions Partner designations and the now-legacy Microsoft Gold Partner competency. Based in Irvine, California, we report trends affecting IT pros everywhere.
If your organization uses Microsoft 365 or Azure, you may be eligible to receive a complimentary savings report from a Trusted Tech Team Licensing Engineer. Click here to schedule a consultation with our team now to learn how much you can save today.
Subscribe to the Trusted Tech Team Blog
Get the latest posts delivered right to your inbox