Windows Server 2022 Top Features
Windows Server 2022 Preview
If you have chosen the Long-Term Servicing Channel (LTSC) track of Windows Server, then you have undoubtedly heard about the new Windows Server 2022 Preview that was announced by Microsoft in early March. The newest LTSC update is planned for wide release in later 2021.
Windows Server 2022 Features
This highly anticipated public Windows Server 2022 Preview, which was revealed in a 29-minute presentation by Bernardo Caldas, Vice-President of Program Management at Microsoft, focused on the new Windows Server 2022 features. These 2022 features were focused mainly on updates in security, as well as in the continued integration with Windows Server and Azure, particularly in the areas of security monitoring and management.
Windows Server 2022 Enhanced Security
Windows Server 2022 secured-core server is now better prepared to prevent firmware attacks, thanks to multi-layer security across firmware, hardware, and operating systems with the Windows Defender System Guard. This virtualization-based security (VBS) system allows you to view, identify and access security features from any web interface and features Credential Guard and Hypervisor-protected code integrity (HVCI). This can be accessed from an iPad, a laptop, or a mobile phone; with one click, you can manage an attack. It is also easier than ever to locate incident logs; through Analytics, a new alert identifies and flags it in Azure Sentinel, allowing both detection and prevention on the server. Secured-core servers will be available from Lenovo, HP Enterprise, and Dell EMC further into calendar year 2021. Your network will also be more secure with Windows Server 2022. "TLS 1.3 is enabled by default," said Mr. Caldas in his presentation at Microsoft Ignite. "You can secure your apps with DNS client support for HTTPS and SMB protocol hardening, such as AES 256 Encryption."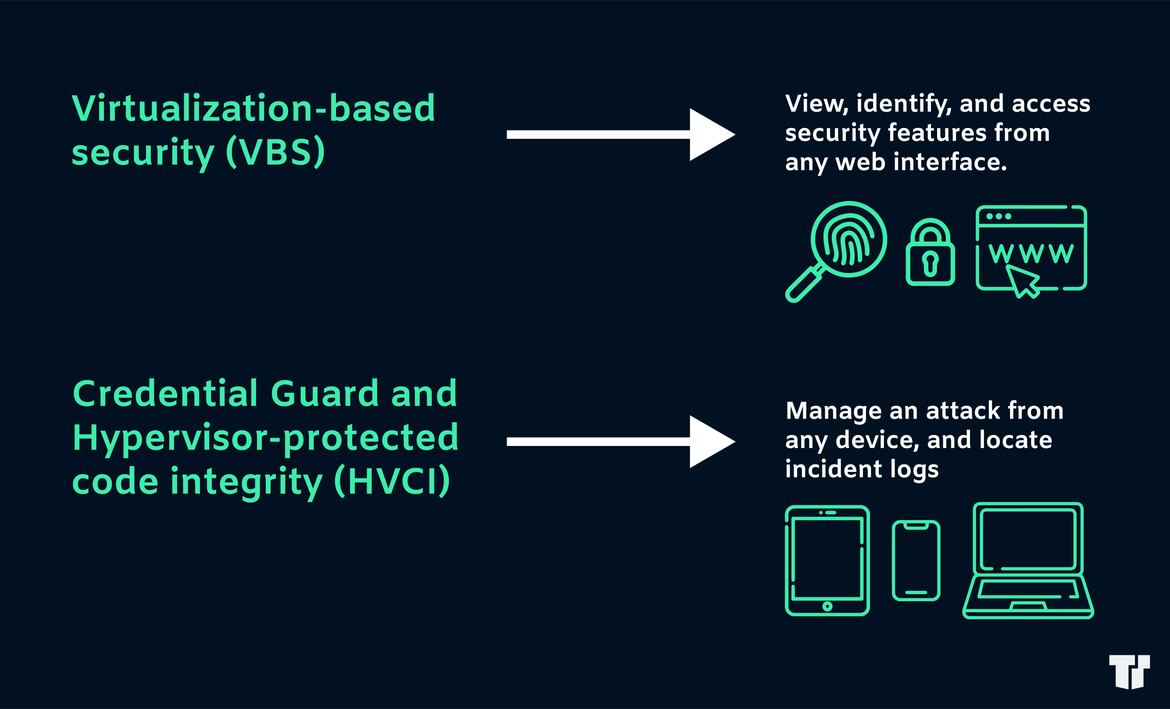 Improved Flexibility and Support to Business-Critical Workloads
Windows Server 2022 is updated to further support large-scale operations like SQL (which requires 48TB memory and 2,048 logical cores running on 64 physical sockets). Windows Server 2022 roadmap also includes improvements to Windows Containers, which includes Nano Server updates and support lifecycle changes, virtualized time zones, scalability improvements, Direct Server Return (DSR) routing, and generalized size improvements (reducing Windows Container image size for better performance). Also improved with Server 2022 is the Windows Container experience with Kubernetes, including consistent network policy implementation with Calico, node configure support for host-process containers, and IPv6.
Azure Hybrid Capabilities
Cloud-based agility and the use of VM to better streamline and govern server management is also a trend that is being developed within Windows Server 2022 features. Two-hybrid capabilities, Storage Migration Service and Azure Arc are two hybrid capabilities that work best in these multi-cloud environments. You can view, control, and further manage your system with the enhanced Windows Admin Center v2013 (also available in Azure portal), which features improved VM management.
Windows Server at Trusted Tech Team
Trusted Tech Team offers the Windows Server software you need to keep your business ready for the future, including Windows Server 2022. Visit our Windows Server product category and shop our available editions and release years for compatibility with your needs. We offer easy downloadable software options, as well as retail boxes, along with free download support and consultations. As a Microsoft Gold Partner, we are poised to be your knowledgeable partner; contact our California-based team to learn more about Microsoft Server products and options. We are available by phone, email, or by live chat.
Subscribe to the Trusted Tech Team Blog
Get the latest posts delivered right to your inbox