QUICK & LIGHT – Intuit's Platform as a Business
Following Intuit's "defeat" of Microsoft Money in the late 2000's, Quickbooks has endured as the premiere accounting software in the market.
With multiple versions available, including Online, Desktop, Enterprise, and Accountant, Intuit continues to leave no stone unturned in the money management landscape. With the recent release of Desktop 2020 and Enterprise 20.0, Intuit has added many clever new features. Of note are the collapsible report columns, automated payment reminders, and "smart" help options. You can learn about the new product suites here.

A unique aspect of Intuit's success is its partnership with fintech lender Lighter Capital. In 2017, they dedicated the $15M "Lighter Capital Intuit Developer Fund" for companies developing Quickbooks-based small business apps. With more than 2.38 million Online subscribers and over 500 apps available in the Quickbooks Apps Store, the fund offers opportunities for Intuit developers to enhance the Quickbooks ecosystem while digitally empowering SMBs worldwide.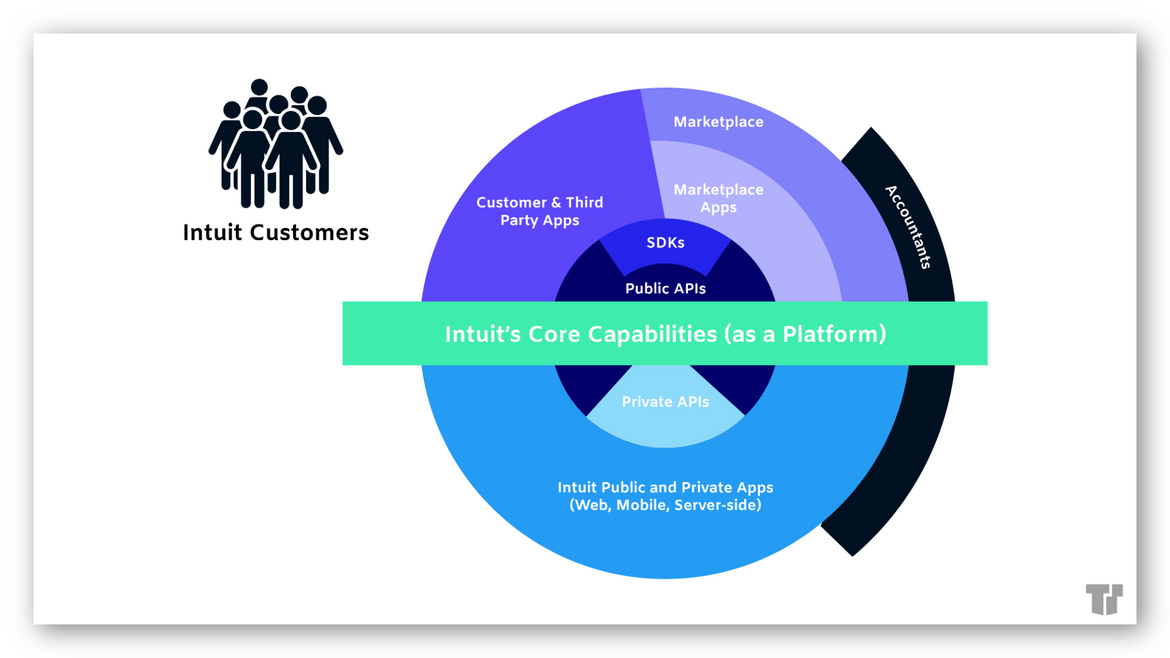 The Intuit "BAAP"
According to ProgrammableWeb, Intuit's development ecosystem was created in 2001, and the QuickBooks Online developer network was activated in 2014. Intuit's "Business as a Platform" (BaaP) model employs app integration, legacy modernization, and API economics.
As Quickbooks developers perpetually build "behind-the-firewall" integration networks for web, mobile, and server apps, the entire Intuit community remains committed to developing "the right app for (the) right job at (the) right time and for the data to be flowing seamlessly throughout (the customer) experience."
As of December 2018, 20% of Intuit subscribers use at least one third-party app. Furthermore, the retention rate for third-party app users was 14% (i.e., third-party app users were 14% more likely to renew their subscription versus non-users) – a strong indicator of the long term value (LTV) and "attach rate" of the Quickbooks developer network.
"We're hyper-focused on helping developers harness the power of the QuickBooks Online ecosystem. We're thrilled Lighter Capital is committed to providing our developers access to capital that can help them scale their apps and better serve the millions of small businesses that use QuickBooks Online with apps to help them streamline their workflow."

- Alex Barnett, Director, Intuit Developer Group
---
Trusted Tech Team: A Microsoft Gold Partner
To receive more information about Intuit and Quickbooks products, contact us for a free consultation. Our Licensing Engineers will help you maximize your software subscriptions, and provide you the lowest possible costs available.
Subscribe to the Trusted Tech Team Blog
Get the latest posts delivered right to your inbox